So as you may or may not know, we're developing this crazy bastard child of a web comic into a cartoon, and by cartoon, we mean "Adult Swim" kind of cartoon, not like a "Dora the Explorer" kind of cartoon. It's going to be on Youtube, which is like the digital equivalent of cable access television, except people actually watch it. And no, we aren't going to bombard you with cat videos, or 20 minute vlog rants, or some kind of weird Indie style of comedy where the joke is that you're not supposed to get the joke. It's a real, laugh-out-loud cartoon.
We've only just gotten off the ground, and it's going to be a long road to come, but we wanted to update you guys on how things were coming along. And we figured what better way to show you how challenging it's been than for a montage of our hard work.
First, we had to unlock the secret formula to comedy perfection.
Brandon's been boning up on his cartooning skills...
While Bryan's been boning up on his welding skills...
...We're still not quite sure how that one's going to help.
Of course, physical training is just as important as artistic fitness...
We're even tapping into our musical talents. You see, music is going to be a huge part of the show...
We even consulted a voodoo shaman named Jabbuweh (for good luck, of course)...
Because really, what's the difference, amirite?
But more than goats, it's meant the sacrifice of time, as in a slew of late night brainstorming sessions.

But it's all been worth it, to lead up to our very first cartoon...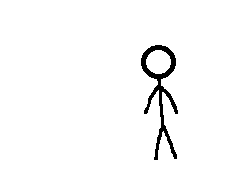 That was worth 126 hours of work, right?
Kidding.

We DO have a cartoon in development, but unfortunately we can't show you anything... yet. Just know that it's unlike anything you've seen from us before. We've got software and audio recording equipment. We've got our first season (12 episodes) written. We even have a theme song.
So until it airs (which won't be for a few months) we'll keep you updated of our progress. In the meanwhile, we're still doing the blog as always, and we have some more fun news for you on Thursday (and no, it's not that Brandon saved up enough money for the sexual reassignment surgery).
Cheers and stay classy, friends,
B&B
Music: The Epilogues
Beer: Railyard Ale