to be lazy
to give some shout outs to some great blogs in need of some good old fashioned blog lovin'. And around here, rather than give away awards, we wanted to start something new... every shout out gets their own cartoon. So... let's grab an e-condom (always blog-love responsibly, folks) and begin!
First off, a huge shout out and a big thank you to Zombie over at
Zombies Everywhere!
Updated daily, this blog features not only some great zombie-related posts, but also some great zombie artwork. What's more, the blog owner was generous enough to send me a Zombies Everywhere! bumper sticker as a wedding gift. Cool stuff, no?
So as a thank you, below is what I imagine Zombie would look like if he was actually a zombie...and really, really wanted a brain and bacon sandwich (everything's better with bacon).
Next, I want to give a long overdue shout out to Bouncin' Barb over at... drumroll please...
Bouncin Barb's
. She's been a good friend of the blog for most of its adult life, and we don't blame her for not being there during its dysfunctional infancy. Not only is Barb a great person with a lot to say, but she tells some amazing stories about her life, and if you stick around long enough, you might learn something. I haven't (because I'm stubborn), but maybe you will.
Below is Barb relaxing with her favorite beer, a Heineken, which I'm also partial to (see second picture after her button).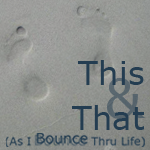 Gotta make sure "Baby" is strapped in tight.
Lastly but certainly not least, a big shout out to Jessica at
Lemons Don't Make Lemonade
. She's 15, she lives in China, and she has better vocabulary/writing skills than the geeks I regularly hang out with that claim to be writers. We think she may be a robot. Regardless, she's been a great friend to the blog, and always comments on how the comics we draw look great (even if they don't), so here, as a token of appreciation, is her own character.
So to those I've just drawn, now that you've been ABftS'd (catchy, right? ... okay, maybe not) feel free to do with these images whatever you'd like; reuse them. Edit them. Burn them. They're all yours. And those of you who haven't been ABftS'd yet (God, imagine trying to type that out drunk) stay tuned because maybe some time soon you, too, may become a shitty MSPaint comic.
Stay classy, friends,
Bryan